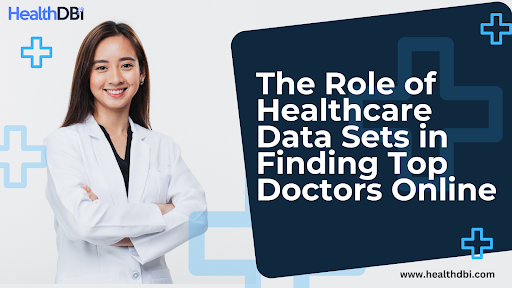 Claim Your 7 days Free Trail Now!!!
Accelerate your business growth
In today's digital age, finding top doctors online has become easier than ever, thanks to the availability of vast healthcare data sets. These data sets, offered by healthcare data companies in the form of healthcare data lists, provide comprehensive information about physicians, doctors, nurses, and other healthcare professionals. This blog explores healthcare data's pivotal role in enabling individuals to find and connect with the best doctors, highlighting the importance of
Healthcare and Physician Databases and Healthcare Data Lists
in the process.
1. The Power of Healthcare and Physician Databases 
Healthcare and physician databases are valuable sources of information for individuals seeking top doctors. These databases, provided by reputable healthcare data companies, contain detailed profiles of healthcare professionals, including physicians, doctors, and nurses. The databases include essential data such as specialties, education, training, certifications, and contact information, making it easier for patients to find doctors based on specific criteria.
The accuracy and reliability of healthcare and physician databases are crucial in ensuring that individuals have access to the most up-to-date information. Healthcare data companies employ advanced data collection methods and regularly update their databases to reflect changes in the healthcare landscape. This ensures that patients can make informed decisions and connect with top doctors who meet their specific requirements.
Our commitment to providing cutting-edge technology and excellent customer support ensures that our clients receive the best possible experience. We are proud to have made a positive impact on our client's businesses
2. Streamlining the Search Process with Healthcare Data Lists :
Healthcare data lists, including physician lists, doctor databases, nurse data, and more, further enhance the search for top doctors online. These lists are meticulously compiled and provide targeted information based on various criteria, such as specialty, location, and other relevant factors.
By utilising healthcare data lists, individuals can narrow their search for top doctors, saving time and effort. Whether finding a dermatologist for a skin condition or a dentist for oral care, these lists help individuals quickly connect with the right healthcare professionals.
Additionally, healthcare data companies ensure the accuracy and reliability of these lists by employing stringent data verification processes. This guarantees the information is current and trustworthy, instilling confidence in individuals seeking top doctors online.
3. Enhanced Decision-making and Informed Choices :
 Healthcare data sets are vital in empowering individuals to make informed decisions when selecting top doctors. By accessing healthcare and physician databases and utilising healthcare data lists, individuals gain comprehensive insights into a doctor's background, expertise, and credentials.
Access to detailed profiles and contact information allows individuals to conduct thorough research and make well-informed choices. Patients can review a doctor's education, training, certifications, and specialties to ensure they fit their healthcare needs correctly.
Additionally, these data sets enable patients to verify a doctor's credentials and reputation by checking other patients' reviews, ratings, and feedback. This transparency aids in building trust and confidence in the doctor-patient relationship.
4. Improved Healthcare Outcomes : 
The availability of healthcare data sets positively impacts healthcare outcomes by facilitating better access to top doctors. Patients can now connect with specialists with the expertise and experience required for their specific medical conditions.
By leveraging Healthcare and Physician Databases and Healthcare Data Lists, patients can access a broader network of healthcare professionals, including those in different locations or with specialised expertise. This expanded reach increases the chances of finding the most suitable doctor for a particular medical need.
Improved healthcare outcomes also extend to healthcare organisations, pharmaceutical companies, and researchers. They can utilise these data sets to identify trends, conduct market research, and develop targeted strategies to enhance patient care.
Conclusion:
 Healthcare data sets, including Healthcare and Physician Databases and Healthcare Data Lists, have revolutionised the way individuals find top doctors online. These comprehensive resources provide detailed profiles and contact information, streamlining the search process.
Claim Your 7 days Free Trail Now!!!
Adipiscing elit sed do eiusmod tempor incididunt ut labore et dolore magna aliqua. Enim minim veniam quis nostrud exercitation
Blog October 3, 2023 Urologists Mailing List – Top Healthcare Leads Claim Your...